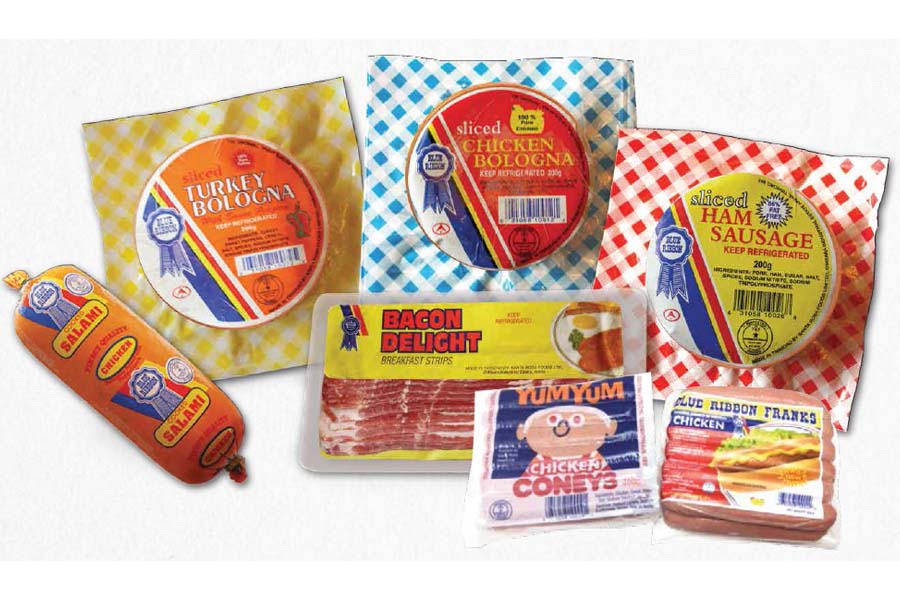 Sliced Deli Meats
Food is a very important part of life. Our Blue Ribbon line of products does not compromise quality to optimize best selling price on the market. All our deli meats: chilled and cold cuts, sausages, and smoked meats are made with the highest industry ingredients.
Regardless of the economy you should be feeding your family quality deli lunches. Deli lunches can be made with Blue Ribbon sliced salami, bologna, ham sausage, sliced ham, and pepperoni. As the years went by to show our commitment to healthy deli meat choices we added turkey bologna, chicken bologna, turkey ham slices, and chicken ham slices.
Hot Dogs or Franks
Call it Hot Dog or Franks it's all the same at Blue Ribbon. Hot Dog is a favourite of everyone, old and young, short and tall. We all grew up on Blue Ribbon Hot Dogs/Franks. I don't know a single child who does not have Blue Ribbon Hot Dog as their lunch at least once per week. While we do not have major holidays like Memorial Day we in the Caribbean eat hot dog regularly.
Chilled Processed Meats -Blue Ribbon Products
Franks
Bolognas
Salamis
Pepperoni
Bacon type products
Hams slices pork and turkey
Well known household brand for over 40 years.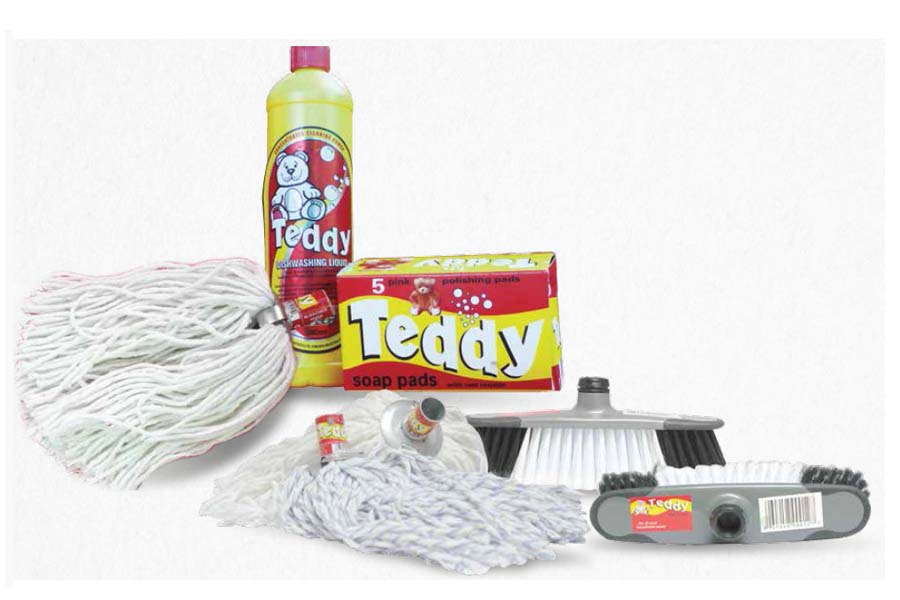 In its early days of supplying necessary products for the average household in Trinidad and Tobago, Albrosco offered Teddy Scourers in plastic and wire.
Today we have added many solutions for your cleaning needs. Teddy is the main brand that we sell. We are proud to say that you can find Teddy Dishwashing Liquid in your local food store and grocery. You can also find Teddy Stainless Steel scourer, Teddy Scotch Brite and Teddy Sponge Scourers.
To clean that burnt-in grease off your pats use our best steel wool product: Teddy Stainless Steel Curly. Teddy Soap Pads has also been used satisfactorily for many years.
Mops and Brooms
What is a line of cleaning products if you don't have the mops and brooms included. Whatever your preferences or needs, Albrosco has the size that gets the job done. The size of the mop is the length of the yarn on the mop. There is #12, #14, and #16. We have coloured and plain white yarn.
We sell mops, brooms, dust pans and toilet bowl brushes for household use and industrial use. We also carry mop and broom sticks.
We offer fresh Pork produced by the highly recommended methods .
Smithsfield Farm is a 25 acre pig farm in Aripo, Trinidad, Caribbean.
We produce top quality fresh pork. A first class facility, and clean slaughtering with experienced butchers.

Smithsfield Farms delivers fresh, home grown pork through the various retails outlets in Trinidad and Tobago. They are sold as pork sides wherein the customer cuts up for presentation to the consumer. Smithsfield Farms also sells fresh pork legs for those wonderfully baked pork for Sunday lunches, pork shoulders for the times when you just want "a piece of pork", pork bellies which are especially good for cooking that special dish of crispy skin pork, and pig feet for those occasions when only the local dish, Souse, will do.

"Head to toe of pork", that's right, all parts of the pig are used. Like in the making of 'black pudding', a favorite among the people of Trinidad and Tobago. Chinese dishes call for many pork cuts, and others like trimmings which goes to the processing plant to make sausages.
Also available are whole pigs, popularly known as Suckling Pigs, between 12-15kgs, for those special occasions. When it comes to Fresh Pork, we have it and we can supply it.
Purchasing fresh pork either chilled or freshly frozen is within reach of the customer/consumer by calling Smithsfield Farms at 667-9159 or 667-9417 to place your order and a salesman will be specially assigned for prompt, reliable, courteous and efficient service.
Our Teddy brand of products has been a household name for many years. We guarantee the highest quality and durability at the most affordable price.
Items within this category include:
Mops: Bleach White and Multi-coloured both plastic and metal sockets.
Dry mops
Mop Buckets
Brooms
Pot Scourers
Steel Wool Pads/Rolls
Soap Pads
Dishwashing Liquid